If you fancy the new Windows 8 operating system, you can try it out on your PC. You won't lose much for the upgrading, though you will lose the start menu but there are other compensations attached.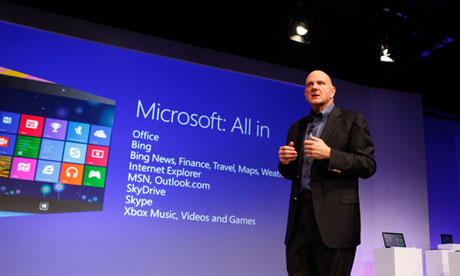 Steve Ballmer, Microsoft's CEO, gives the world his new operating system
The compensations are:
1. You get access to thousands of new tablet-style apps from the Windows Store, many of them free.
2. You get a more efficient version of Windows 7, which starts up quicker, runs faster and provides better battery life. Any PC that runs Windows 7 should run Windows 8 even better.
3. The new user interface guidelines don't just apply to Windows 8 but also to Windows Phone, online applications such as SkyDrive and websites such as MSN.com
Modern Windows 8 Metro-style interfaces are replacing old fashioned ones, where digital objects look like physical objects. I recommend that you set up a new email address at Outlook.com (the replacement for Hotmail/Live Mail) and use that as your Windows Identity for logging on to Windows 8. Outlook.com also provides access to SkyDrive, the free online Office apps (Word, Excel etc) are nicer than Gmail and the Google equivalents and SkyDrive isn't far off Dropbox. You can drag and drop files into it and SkyDrive apps will automatically synchronise your files across PCs and Macs.
The main disadvantage is that the new start screen is designed for "touch first" operation, which you have not got. As it turns out, it is not that hard to use Windows 8 without a touch-sensitive screen but it may take you a few days to get used to it. The mouse still works and you can still find things just by typing a few characters, as in Windows 7. The Windows keyboard shortcuts are also useful.
Several companies offer utilities to bypass the start screen and take you straight to the desktop, making Windows 8 work like Windows 7. However, you lose the benefit of the "glanceable" live tiles, which keep updating you with information in a way that dumb 1970s-style icons cannot. (People have tried to do the same sort of thing by replacing icons with widgets but widgets haven't taken off.) You might also lose the benefits of new apps. Windows apps are limited in volume and quality but it's very early days…
Finally, Microsoft says it is "all in" on Windows 8. It comes with Bing apps, Xbox music and movies, and works well with Skype. It downloads apps from the Windows store and these are "sandboxed" for greater reliability and security. It integrates with SkyDrive, and the free SkyDrive versions of the Microsoft Office apps such as Word and Excel. For business users, it works with Office 365 (which includes Lync and SharePoint) and Microsoft's Azure cloud computing service.
In sum, Microsoft is well on the way to delivering an integrated system in which everything just works. This has been a long-term project that surfaced under software architect Ray Ozzie's slogan: "Three screens and a cloud." The three screens are the PC, the mobile phone and the TV (via the Xbox 360). Have a look at Xbox SmartGlass to see a bit more of the unfolding vision.
Windows 7 is an excellent operating system but Windows 8 is the start of a new ecosystem in which Microsoft combines its software, services and devices so that everything works better together. At least, that's the idea. Windows 8 is a lot more than an operating system upgrade and that's a good reason for giving it a try.
Source- Guardian